Tower's Corporate Social Responsibility
Tower Leasing continues to support and sponsor organisations and individuals to help them get one step closer to reaching their goals. From local communities to helping people across the world, we are passionate about giving something back to the community and the environment. If you would like to sponsor any of the below, please get in touch, email enquiries@towerleasing.co.uk
Mental Health First Aider 
Victoria Chambers becomes Tower's Mental Health First Aider.
"Many people fail to recognise when somebody who may even be very close for example partner, relative, friend or co-worker are going through a difficult time. Spotting the signs and understanding more will help us all to get the right support they or we deserve".  
We can make a difference by creating a positive working environment by putting our employee health and wellbeing first. 
There are also many helpline services that can provide amazing support – Please see contact details below:
Papyrus                0800 068 4141
CALM                   0800 58 58 58
Samaritans           116 123
Mind Infoline         0300 123 3393
Focus Foundation
Tower is proud to offer its support to the Focus Foundation, the philanthropic arm of our partner Focus Group. The foundation is dedicated to providing support to a variety of UK-based grass-roots charities with the ultimate goal of creating a positive and lasting difference to people lives.
The foundation primarily focusses on organisations who offer their assistance to those most in need, with a particular emphasis on three key themes: socially or economically underprivileged children, mental health charities and charitable or community projects local to Focus Group's UK regional offices.
If you would like to find out more about the Focus Foundation and the organisations they support, please visit https://www.focusfoundation.org.uk/
EdUKaid 
Tower are pleased to sponsor one of EdUKaid pre-primary classes, these are the most disadvantaged children who are desperate for 
an education. As a sponsor, we will helping over 100 children aged 4 – 6 will have the chance of a better future.
EdUKaid have provided the following sponsorship profile to share with you about the charity and how the sponsorship will contribute to the children's learning and development. You can find out more about the charity by visiting https://www.edukaid.com/ 
H.E.A.T. Foundation
The H.E.A.T. Foundation (Health, Education, and Training) is currently working with local charity in Vaniyambadi, South India, and in Mansehra, Pakistan in a joint effort in provide poor children with education. The aim is to encourage them to continue in education and hopefully keep them from joining the "Child labour market".
The charity was set up by Umar Shariff (previously our Finance Director) with the help of friends, family and colleagues after visiting India and seeing the hardship and poverty that people were experiencing.
H.E.A.T.Foundation is also helping to provide dental and eye tests for the children as well as midday meals (for some this will be the only meal of the day) and uniform.
We all love shopping and by registering at www.giveasyoulive.com  and choosing H.E.A.T.Foundation as your favourite charity, you can be raise funds each time you shop for loved ones by going through the giveasyoulive site, without costing you a penny and helping the poor children receive the education they so need.
Read More
Aldermore Charity Football Tournament
Congratulations on getting so far in the Aldermore football tournament 2019 'Andros Towersend FC'!! All for an amazing charity, raising a total of £13,016 for Headway UK who help and support people affected by brain injury. #FootballForHeadway
Tower takes part in Aldermore's annual charity football tournament 2018, together we raised £13,450!! What a great event and our team thoroughly enjoyed the day, coming 3rd in the tournament! #teamtower
Tower Leasing took part in Aldermore's Charity Football Tournament on the 7th September 2017 at St Georges Park, Burton-Upon-Trent., in memory of Adam Massen. We'll be raising funds for brain injury charity, Headway. Working to improve life after brain injury Headway provides support, services and information to brain injury survivors, their families and carers. The funding page has currently reached an incredible £12,175.00.
Passionate about Wildlife
Tower leasing is supporting the upcoming project of the British & Wildlife Reserve on The Green Dragon Eco Farm in July 2018. Their aim is to support wildlife conservation and expand their range of outdoor learning activities aligned to their educational ethos. They have set a target of reaching 250,000 children by 2023, increasing partnerships with schools and charities to offer young people outdoor experiences they may not otherwise have.
Read More
OperaUpClose
OperaUpClose was founded in October 2009 by Adam Spreadbury-Maher, Ben Cooper and Robin Norton-Hale for the experiment of producing La Bohème at the Cock Tavern Theatre in Kilburn, a 35-seat theatre above a very rough pub. We had no idea if anyone would come to see the show, or even whether opera singers would be prepared to work in such a gritty, fringe environment.
With equal amounts of delight and trepidation, we fielded requests for press night tickets from an astonishing number of national papers (for most pub theatre shows, it's a coup to get one national critic in), and watched as tickets for the first fortnight sold out before we'd started previews. We'd clearly hit on something – the question was, would the show live up to it?
Read More
Fin Howells
Fin Howells has taken the decision to leave home and move to Canada to join the Ontario Hockey Academy at a young age of 14 to pursue his hockey career. We are raising funds to make this happen, click here to sponsor.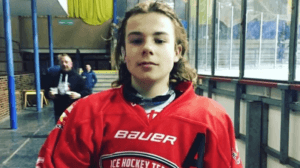 Read his journey so far…
From the first time Finley watched a local ice hockey game he was hooked, one month later for his 6th birthday he had his first skates and hockey starter kit and has never looked back since. When he was 10 years old he was selected after numerous trials for the Midlands Conference team, a team made up of the best players in the country including 2 of the biggest clubs in Britain. Finley was selected for the team and given the honours to captain the team; the team participated in a tournament in Holland that consisted of the German & Dutch National Team and the largest hockey tournament here in the UK.
Finley and the Midlands Under 11 Conference Team beat all teams and Finley raised the winner's trophy in front of a sell-out crowd. Finley has always wanted to play for his country and represent England… He finally had the call up to attend the trials "Quest for Quebec". Finley has had numerous trials this year consisting of at least 60 ice hockey players from all over England.
Read More