The Benefits of Education Leasing 
Operating Leases is a great way to invest in the latest equipment and technology for your education, creating a better environment for your students to learn. 
Here are some key reasons why the education sector use leasing: 
Affordable Payments
Plan ahead and spread the costs of investing in new equipment. Payments are made in smaller installments allowing you to focus on other projects where funding is limited.
Maximise your budgets
Get the equipment you want and need without compromising on the functionality and quality. Whether you want to invest in new I.T technology, catering equipment ot playground equipment. Leasing supports your budget plans.
Keep up to date with the latest equipment and technology
Provide your students with the support and tools to ensure a better learning environment. Receive the credibility and be known to offer fantastic facilities.
Upgrades
Equipment and technology can become outdated quickly, this is where leasing can be a great benefit as there is no need to source additional funds and you can simply upgrade anytime throughout the lease period through your equipment supplier.
A simple process with an operating lease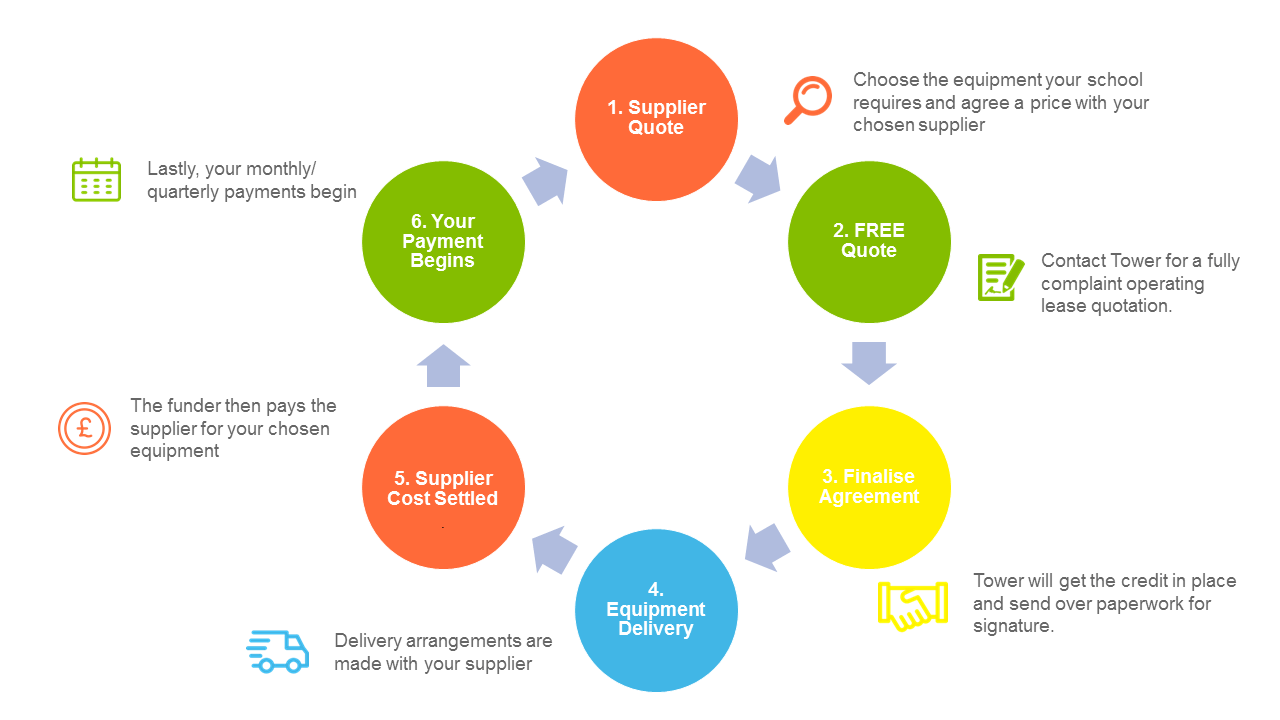 Frequently Asked Questions and Answers 
Why is leasing widely used in the education sector?
Equipment purchased for education such as computers have to be upgraded every three years. This project would normally be funded through the capital budget. With different types of learning introduced, a classroom set for 30 people can cost anything from £7,500.00 upwards. In addition to costs incurred such as support and training with a whole new set up for each student or class enrolled, these costs are ongoing year on year.
What is finance lease?
Finance lease agreements usually run for all, or a substantial proportion, of the equipment's estimated working life. Under a finance lease, the leasing company ("lessor") transfers all of the risks and rewards of ownership of the equipment to the customer ("lessee").
You will not own the equipment at the end of the agreement. Leases that do not meet the operating lease criteria will be finance leases.
What is operating lease?
Operating lease agreements typically have a shorter duration than the working life of the equipment. Under an operating lease, the leasing company ("lessor") retains the risks and rewards of ownership, and it will also retain an investment in the equipment being leased, known as the Residual Value. You will not own the equipment at the end of the agreement.
What assets can the education sector lease?
We have financed everything from vending machines in your school canteens, LED lighting in your buildings, the latest smart boards in your classroom, playground and sporting equipment so your students can enjoy the outdoor space to school mini buses, desktops and laptops for employees and software. The list goes on and we can support your education institution in securing the equipment and resources through leasing.
What are the benefits to a private school leasing equipment?
Spread the cost of the equipment over its lifetime
Spread the cost of the VAT
Improve the allocation of budgets between departments or year groups
Match the equipment cost to school fee income
Improve the learning environment with advanced technology and equipment
Keep up with the latest innovations by upgrading anytime
Contact Tower for Education Leasing